Designing an Integrated Energy Modeling Platform for a Global Petroleum Company
Case Study
Get a copy of Designing an Integrated Energy Modeling Platform for a Global Petroleum Company
"*" indicates required fields
Client Challenge
OnLocation, Inc. successfully designed an Integrated Energy Modeling Platform for a global petroleum and gas company.
Executive Summary
OnLocation Inc, a boutique Energy Consulting firm based in the Washington DC area, just closed a six months-long engagement designing a global integrated energy modeling system for one of the world's largest oil and gas producers. The integrated energy modeling platform will bring 12 (twelve!) disparate models together and act as a comprehensive simulation tool to run scenarios and identify risks and opportunities. Corporate planners will be able to study energy supply, demand, conversion, and macroeconomics and run scenarios through the models to test and validate assumptions by applying the diverse analytical power of operations research and econometrics to the energy flow.
Client Pain-Points
Our client, a global oil and gas producer for years had been using an internal complex planning process to steer its operations with a department of economists aligned to different segments of the energy market. To enhance and extend support for the planning process, our client initially reached out and acquired access to several vendors with best in class modeling and analysis capabilities in each supply and demand energy segment and brought in-house these vendor's corresponding products.
Coal experts for example were using a coal model to track global trends in coal production, consumption, or transportation at detailed and regional level while oil experts were working with an oil supply model, petrochemical experts on petrochemical trends, gas experts on gas and the next experts on the next segment of the energy world.
The specific outputs of each segment's research were then presented and passed to the next segment expert as subsequent input to their analysis. After a long, iterative, and arduous process the results were consolidated into the basis for the 5-year strategic plan, and subsequently the yearly operative plans.
Besides the manual aspect of the process and the need to – again manually – align the inputs and outputs from the different segment areas and repeat the different steps with new assumptions, the whole process was time consuming and therefore limited severely the number and frequency of studies that could be performed. Corporate planners were constrained in their ability to be responsive to requests to update forecasts, respond to ad hoc requests and accommodate alternative future scenarios (such as climate change, major shifts in demand, etc.).
None of the solutions on the market were comprehensive and detailed enough to offer an integrated energy-economic view across all the energy markets (across commodities and regions/countries) to satisfy the client requirements.
Our design's main goal was to break the boundaries of those different solutions and "silos of excellence" and design a seamless and iterative process across all models.
Challenges
The challenges to integrate the competing models and establish planning solutions were manifold including among others:
Integration of diverse custom software operating under varying operating system environments
Decomposing models within and across vendors and establishing clear boundaries and responsibilities of each model
Standardization of units/currencies/treatment of losses/etc.
Establishing flexible data granularity allowing rolling up to accommodate the varying requirements of alternative models
Addressing country specific versus regional aggregations
Comprehensive tracking across all models of all energy flows (including losses) and associated key emissions factors (CO2) – ensuring completeness without overlap
Creating a framework for scenarios reporting, archiving (ensuring reproducibility)
Creating a framework for version control of each and all software components
Creating a framework for establishing harmony across models and ensuring equilibrium across model forecasts
To ensure that the models could talk to each other it was necessary to review each model and define and establish a consolidated data model. This data model would allow for preserving each model's data at the lowest level and yet have coping mechanisms to ensure that the enhanced data richness would not impact the core of the existing models negatively. It was designed to avoid (to the extent possible) different vendors having to de facto create a new product line with dedicated development and support processes in addition to their existing products.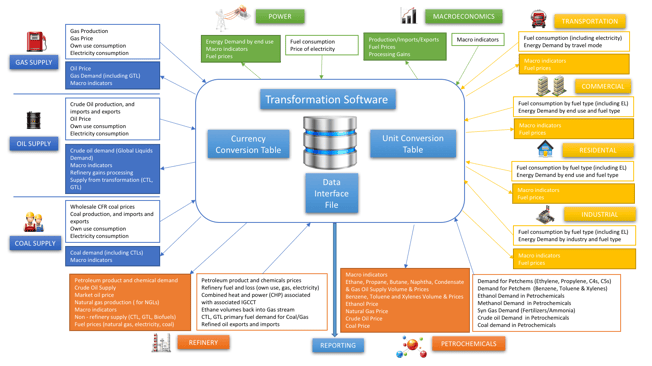 Furthermore, if the whole is to be greater than the sum of its parts, then the approach must be greater as well – and detail questions requiring in depth expertise had to become part of a bigger question. It is not the impact of increased household consumption on the oil demand that is relevant anymore. In fact, the impact of regional macroeconomic changes on household disposable income, and its subsequent impact on energy demand and production potential is of much greater significance.
To be fully utilized, a new integrated energy-economic model required a mind-set switch to integrated – and more complex perspectives needed to be adopted by the client's energy subject matter experts.
Conclusion & Outlook
OnLocation, Inc is very proud to have been part of this journey and to have successfully designed an integrated modeling process taking the global complexity of energy supply and demand in consideration. The disruptive challenges experienced by the globalized energy industry make it harder and harder for executives to make sound decisions. An integrated global energy-economic modeling solution using quantitative analytical methods to study energy supply, demand, conversion, as well as macroeconomics trends provides precious business insights and potentially a distinct market advantage.